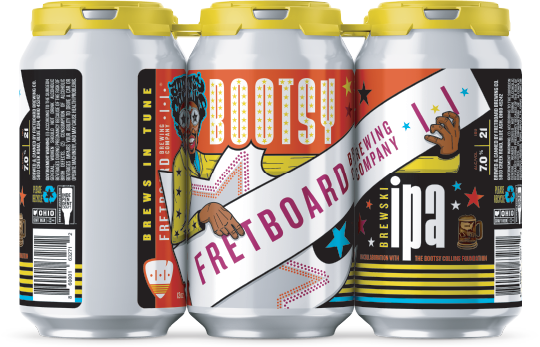 In collaboration with Bootsy Collins Foundation – what started as an experimental IPA recently took gold at the 2019 US Open Beer Championship. This IPA is front loaded with bright funky citrus and finishes crisp and dry and is approved by the grand funkmaster himself.
A portion of all proceeds benefits the Bootsy Collins foundation!
Drink a Bootsy Brewski IPA or PICK UP A SIX PACK To-go AT THESE SELECT RETAILERS!
Greater Cincinnati Area *
312 Bar – 8450 Blue Ash Rd Cincinnati OH 45236
Ameristop Food Mart (Sharonville) – 11114 Main St Cincinnati OH 45241
Barnesburg Tavern & Grille -5761 Springdale Rd Cincinnati OH 45247
Beckett Wine & Spirits – 8211 Princeton Glendale Rd West Chester Twp OH 45069
Blue Ash Marathon – 4116 Glendale Milford Rd Cincinnati OH 45242
Blue Ash Service Center Inc (Shell) – 10415 Kenwood Rd Blue Ash OH 45242
BP (Blue Ash) – 6151 Pfeiffer Rd Cincinnati OH 45242
Brentwood Spirits 8621 – Winton Road Springfield Two OH 45231
Cappy's Wine and Spirits – 309 W Loveland Ave Loveland OH 45140
Clifton Market – 319 Ludlow Ave Cincinnati OH 45220
Clifton Mini Mart – 2450 Highland Ave 1st FL Cincinnati Oh 45219
Country Fresh (Wyoming) – 8425 Vine Street Cincinnati OH 45216
Dean's Hops & Vines – 3722 Harrison Ave. Cincinnati OH 45211
Grove Park Grill – 6735 Kellogg Rd Cincinnati OH 45230
Heist & Co. – 108 Harrison Ave. Harrison OH 45030
Hilton Cincinnati Netherland Plaza -35 West 5th St. Cincinnati OH 45202
Hyde Park Wine & Spirits – 2719 Madison Rd Cincinnati OH 45209
Jeff's Marathon – 6094 Bridgetown Rd. Cincinnati OH 45248
JP's Food Mart – 6380 Branch Hill Guinea Pike Loveland OH 45140
Jungle Jim's (Dixie Hwy) – 5440 Dixie Highway Fairfield OH 45014
Jungle Jim's (Eastgate) – 4450 Eastgate S Dr. Cincinnati 45245
Kings Mills Wine And Spirits – 5271 Kings Mills Rd Mason OH 45040
Lehr's Prime Market – 740 Main St. Milford OH 45150
Madeira Market – 7722 Laurel Ave Cincinnati OH 45243
Marty's Hops & Vines – 6110 Hamilton Ave. Cincinnati OH 45224
Millions Cafe – 3210 Linwood Ave Cincinnati OH 45208
Muse in Mt. Lookout – 1000 Delta Ave Cincinnati OH 45208
Noonans – 1350 Main St Hamilton OH 45013
O'Bryans Wine & Spirits – 8972 Columbia Rd. Loveland OH 45140
Pike Bar & Grill – 10010 Springfield Pike Cincinnati OH 45215
Quick Pick – 4145 Montgomery Rd Norwood OH 45212
Red Bank Fine Wine & Spirits – 3974 Red Bank Rd Suite A Cincinnati OH 45227
Remke Markets (Harrison) – 10501 New Haven Rd. Harrison OH 45030
Rivers Bend Wine & Spirits – 5974 S SR48 unit A Maineville OH 45039
Riverside BBQ & Drive Thru – 2790 River Rd Cincinnati OH 45204
Root Cellar – 7699 Montgomery Rd Cincinnati OH 45236
Sharonville Liquor and Wine – 11018 Reading Rd Cincinnati OH 45241
Shell (Morrow) – 720 E US Highway 22 Morrow OH 45152
Sunoco (Fairfield) – 465 Nilles Rd Fairfield OH 45014
Sunoco Gas Station (Blue Ash) – 10410 Kenwood Rd Blue Ash OH 45242
The Casual Pint (Hamilton) – 130 Riverfront Plaza Hamilton OH 45011
The Fresh Market (Oakley) – 3088 Madison Road Cincinnati OH 45209
The Growler Stop – 3804 Church St. Cincinnati OH 45244
White Oak Marathon – 6050 Cheviot Rd Cincinnati OH 45247
Baker's IGA (Newcomerstown OH)
Baker's IGA (Sugarcreek OH)
Baker's IGA  (Mt Vernon OH)
Kishman's IGA  (Minerva OH)
Mako's Market & Pharmacy (Uhrichsville OH)
Schild's IGA (Norwalk OH)
Sponey's IGA (Beverly OH)
*Available stock may vary per location. Locations listed above were sold Bootsy Brewski IPA within the last 30 days. Six packs to-go may not be available at restaurant locations selling by draft or by the individual can. Last updated 12/6/2019